What's the best way to start a morning? Well, of course, it has to be a freshly brewed cup of joe, with that fresh roasted coffee bean aroma surrounding you.
But one may wonder, what's the best way to make the finest cup of coffee? Worry not! We're here to help.
One of the most crucial elements of a great cup of coffee lies in freshly ground coffee beans. Using that pre-grinded husk will never give you the flavors and aroma you're looking for.
According to research, pre-ground coffee beans only remain fresh for up to a week max after being opened. This means, anything you're using after one week is essentially dust and will never yield good coffee. What a tragedy!
Which is to say, if you take your coffee as seriously as we do (which is VERY serious!) then you need to get on with grinding your coffee beans at home.
Bestseller No. 1
Bodum Bistro Burr Coffee Grinder, 1 EA, Black
The Bistro Burr Grinder consistently crushes beans between stainless steel conical burrs. This...
Push button, pre-set timer allows users to grind the exact amount of coffee needed, keeping beans...
12 Adjustable grind settings allow users to go from Espresso to French Press with ease.
Quantitative Score
Performance – 5/5 ⭐⭐⭐⭐⭐
Durability – 5/5 ⭐⭐⭐⭐⭐
Value for Money – 4/5 ⭐⭐⭐⭐
Overall Score – 5/5 ⭐⭐⭐⭐⭐
Learn more about how we score.
What to Look For in a Coffee Grinder
With all the different variants of coffee grinders available in the market, it can be intimidating to figure out what's good and what you need to steer clear of. So to help, we've compiled this short buying guide for coffee grinders.
Here are some features you need to look at when deciding which coffee grinder to buy:
1. Type of grinder
There are mainly two types of coffee grinders, flat disk, and conical burr coffee grinders.
Flat disk burrs are made of two rings that are aligned horizontally, you can adjust the distance between the rings to determine the size of your grind.
Whereas Conical burrs are designed as two cones, placed vertically on top of each other. The surface between the two cones has angled teeth to do the grinding.
2. Capacity
You need to look at how many beans your grinder can grind at a time. If you're making coffee for a couple of people only, you can obviously do with smaller capacity grinders but if you have a whole family of coffee drinkers, you need a bigger capacity grinder.
3. Automatic or Manual
Coffee grinders come as both, automatic machines that use a motor to do the job or manual hand grinders that require you to rotate the blade via a handle to grind the beans.
These are a good option if you want a cheaper grinder to start with.
4. Convenience
Ultimately the ease of usage matters the most when buying any appliance. It needs to be easy to use, easy to clean, and easy to maintain.
Considering all of the above parameters and after thorough research, we finally came up with an all-rounder coffee grinder! The Bodum BISTRO Burr Coffee Grinder.
Features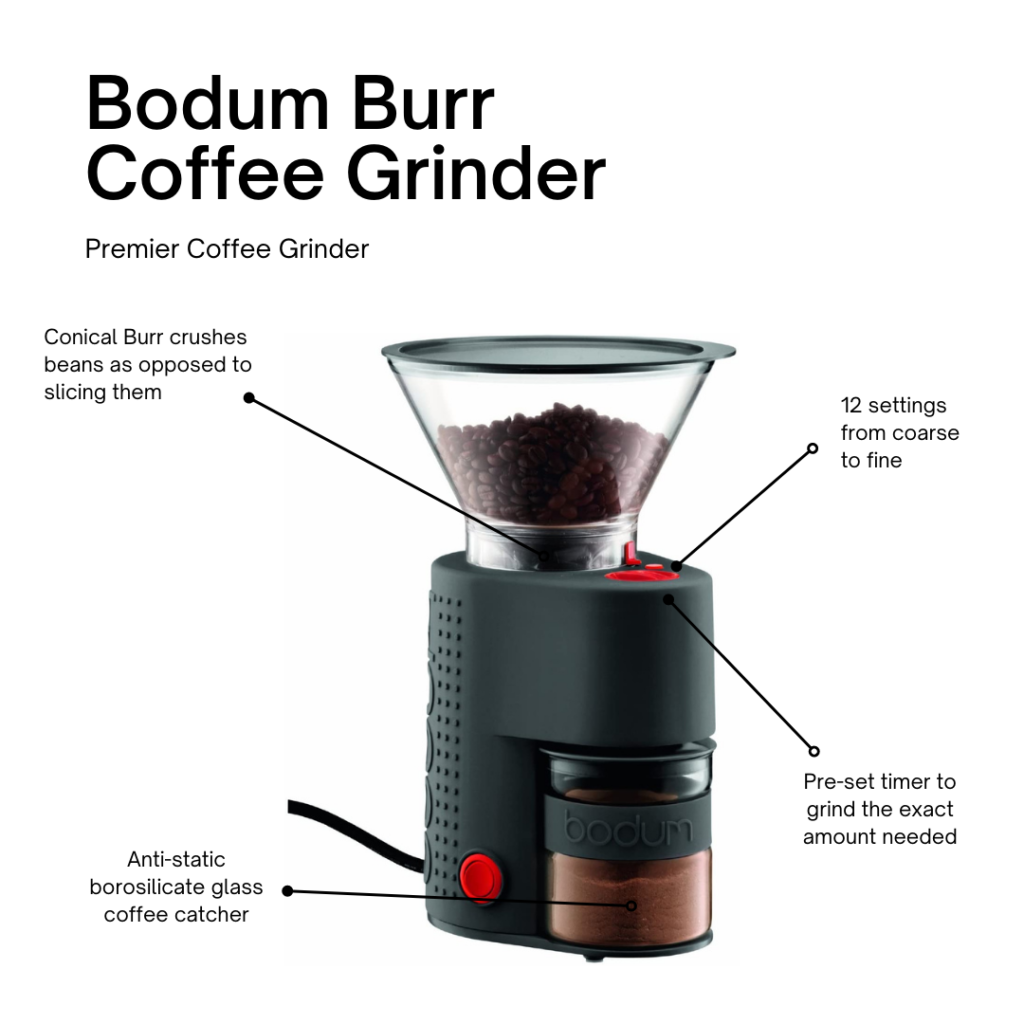 Let's have a look at the product features:
1. Conical Burr
The Bodum bistro coffee grinder uses stainless steel conical burrs that use a pressure-aided mechanism to consistently grind the beans while preserving their freshness and aroma.
The stainless-steel built makes them sturdy and durable to keep the action rolling.
2. Adjustable Grind Size
Fancy a coarse grind for french press or perhaps a finer grind for espresso? The Bodum bistro coffee grinder can do it all!.
You can choose between 12 different grind settings to get the consistency you prefer.
3. Built-in Timer
You can pre-set the built-in timer and use the push button to grind your coffee with precision whenever you want.
You don't have to go through the entire process of setting up the grinder each time.
4. Hopper Lid Plus Grind Size Guide
The hopper comes with a lid that not only functions to keep your beans fresh but it also doubles as a grind size guide.
You simply need to check your type of brew, its required size of the grind and then see the recommended time for grinding and set it accordingly. No need to fiddle with a user manual each time.
5. Coffee Catcher
The grind catcher on Bodum bistro coffee grinder is made with borosilicate glass that has a special anti-static property so your coffee grounds won't cling to it.
6. Anti-slip Surface
The undersurface of the grinder is made with a silicone grip that prevents it from slipping and keeps the grinder in place while you use it.
7. Dishwasher Safe Catcher
The coffee catcher is dishwasher safe so you can clean it with ease.
Pros:
Affordable price point
Diverse grind settings, you can grind coffee for almost all types of brews including french press to Turkish kind
The guide on the hopper lid makes settings super convenient to figure out
The anti-static coffee catcher prevents waste and mess when you open the catcher
The machine itself is pretty compact and uses minimal counter space
The conical burrs yield consistently sized grounds
Simple one-button function
Minimal coffee retention during grinding
Cons:
The max you can run it at once is 20 seconds, after that, you need to wait for 5 minutes before you can run the machine again
The capacity of up to 7.75-ounce coffee beans might not be sufficient for some users
On finer settings, the coffee beans may begin to clog the inside of the machine and need to be manually cleaned up
The noise levels could be bothersome for some people
The hopper lid, although well thought of, is difficult to secure correctly
The anti-slip surface is prone to getting dirty very often
Conclusion
I believe we have well-established the fact that you need to grind your own beans in order to get the best tasting coffee. But to fully benefit from the virtues of coffee grinding, you obviously need to ensure that your coffee grinder is good.
Along with consistent grind, minimal coffee retention, and ease of usage, you also need to look at the build quality and durability.
The Bodum Bistro Coffee Grinder is a prime example of a coffee grinder that lands well on all of the above criteria. It's well built and has all the properties you need from a good quality coffee grinder, including diverse grind settings, a built-in coffee catcher, and a consistent grind.
All that at an attractive price point!
So if you're looking to get on the best homemade coffee team, this grinder might be a good place to start! Be sure to pair it with a good coffee maker to get the best of both worlds.