How many times have you sent a coffee mug to a loved one only to discover that it broke in transit? Well, this is a prevalent problem that many face. I know that coffee mugs are to be dealt with delicacy while shipping to prevent them from breaking on the way. 
Whether they are made of porcelain, ceramic, or even glass, coffee mugs are the most easily broken items in my kitchen. While you may care for them in your home, sending them to somebody else through a courier service does pose a threat to their safety. 
You may be ordering customized coffee mugs for yourself from an online store or sending a birthday gift to your best friend. For that, you need the packaging to be perfect. Shipping coffee mugs doesn't require any additional skills or materials. With only a few materials in hand, you can pack and ship your coffee mugs without worrying about their safety. 
The method described in this article is quite simple and cost-effective, making you send out your coffee mugs with ease. Continue reading and follow the steps to learn how!
Step #1: Find the Right Fit Box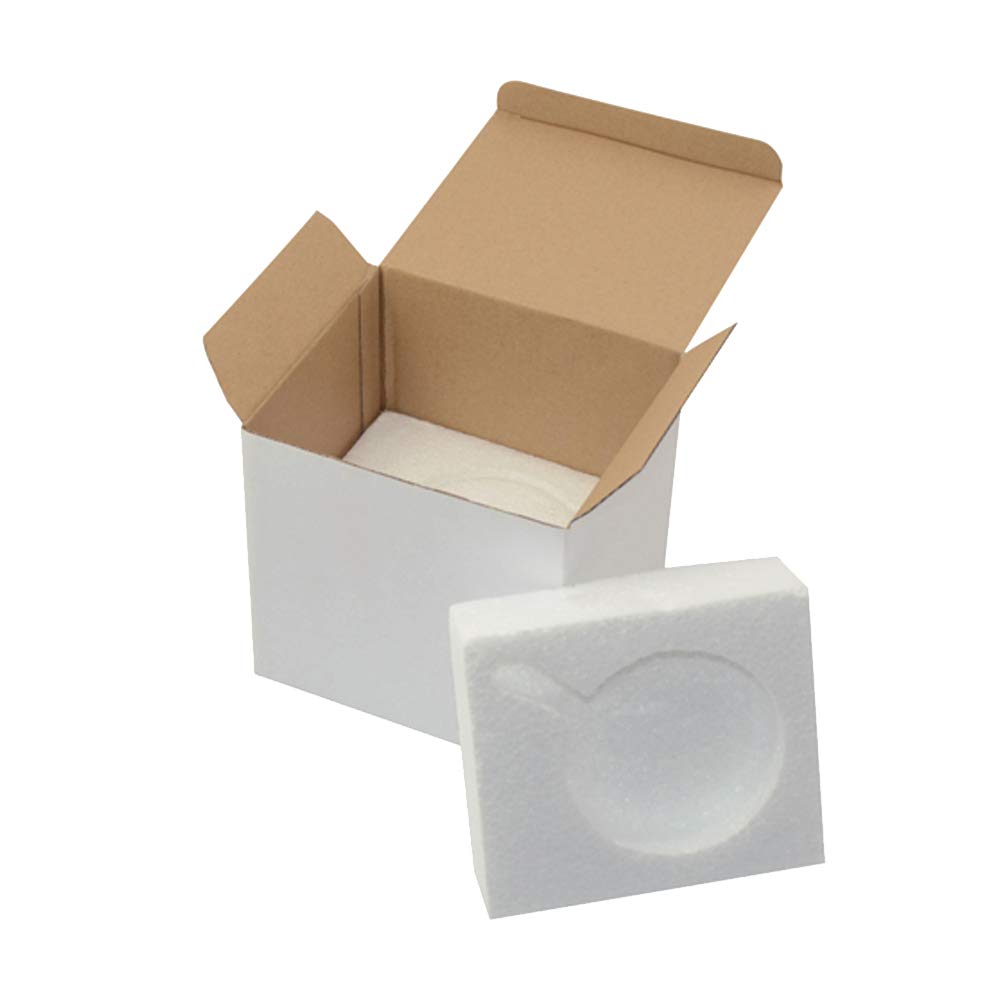 Finding the right size and material for the box is the essential thing in shipping coffee mugs. That is why you must pay extra attention to the box! If one of the things isn't correct for some reason, it may lead to your coffee mug breaking before it even reaches its destination.
It is advisable to never go for a box that is the same size as your coffee mugs. It is preferable if you select a larger box than your cup so that you may fill it with packing peanuts and other cushioning materials. 
Choosing a small size or even a fitted box is not preferable. It may cause the mug to touch the box throughout and break if external stress is applied. A huge size, on the other hand, will give too much room. If there is inadequate cushioning material filling, your cup may shift from its original placement, resulting in breaking.
Also, choose a material that is strong enough to take external stress. You don't want your box to rip halfway through, causing damage to your coffee mug.
Step #2: Gather Other Supplies
The next step in shipping coffee mugs is packaging them first. If you pack your coffee mugs with suitable materials, shipping is only a piece of cake. You can easily find these supplies from your nearest store.
The very basic things you'll need are bubble wrap, packing paper, and good-quality packing tape. I also highly recommend using packing peanuts or other cushioning materials to keep your mug from moving too much. Having the right size thermocol (Polystyrene foam) can help keep your cup in place within the box.
Before placing your mug inside the box, make sure that no sharp edges stick out from any material. This protrusion may cause scratches on your coffee mug, ruining its quality and appearance. Once you've gathered your supplies, you're ready to move on to the packing step.
Step #3: Packing Your Mug
Finding the materials was the most challenging part. Meanwhile, packing is quite simple. Once you've collected the supplies, follow these steps in the proper order to pack your coffee mug properly.
The first step is to prepare your box to place the coffee mugs that are to be shipped. Use the bubble wrap to line the inner bottom side of your box with it. This will protect your package from any shock that it may receive during shipping. 

The next step is to wrap your coffee mug tightly with packing paper. Secure it with packing tape, so the wrapping doesn't open. You can also use a plastic cover for this step to cover your mug entirely with it. If you have the correct fit of thermocol, you can skip these steps, but even following them won't be harmful. 

Tape all the sides of your box before placing your mug inside. Once you've set the mug inside, you may notice the gap between the mug and the box. Make sure to fill it with packing peanuts, bubble wraps, and any other cushioning material that you may have. This step is crucial as too much filling might cause your cup to break due to tension. However, you should only fill it to the point where it does not cause your coffee mug to move. 

You can't forget the inside of your mug as it may also break if there's enough stress to the box. Fill it accordingly with bubble wraps, cloth, or packing peanuts.

Moreover, do not forget about the handle as it's one of the most common things to break. Wrap it using bubble wrap and secure it with tape. Place some packing peanuts inside to fill it appropriately. 

Once the filling is complete, close the lid and secure it with enough tape to ensure it won't easily open. 

Shake the box slightly in a vertical and horizontal direction and check if you can feel anything moving. If not, you've successfully packed your coffee mugs. If you do feel a slight movement, you may want to go back and refill using more cushioning material.
Conclusion
After you've entirely packed your coffee mug, you can quickly ship it to its destination.
Coffee mugs are an excellent gift for every occasion. By using this easy procedure, you can now easily send coffee mugs in no time. All you need is the correct box, some tape, bubble wrap, and packing peanuts, and you're good to go!