If you are looking for a cheap but effective coffee grinder, this is a great option. It will allow you to grind all the coffee you need without breaking the bank. It's also very portable and convenient so you can bring it with you on trips or into the office. Its durability also makes it a great choice to bring with you anywhere you might need to grind your own coffee.
Bestseller No. 1
JavaPresse Manual Coffee Grinder — Stainless...
ENJOY THE PERFECT CUP OF FRESH COFFEE ― The Manual Coffee Grinder by JavaPresse Coffee Company has...
CONVENIENT, PORTABLE, AND EASY-TO-USE ESPRESSO GRINDER ― The hand crank grinder eliminates 90% of...
THE BEST WAY TO START YOUR DAY ― This manual coffee bean grinder is equipped with a professional...
Quantitative Score
Performance – 4/5 ⭐⭐⭐⭐
Durability – 5/5 ⭐⭐⭐⭐⭐
Value for Money – 5/5 ⭐⭐⭐⭐⭐
Overall Score – 5/5 ⭐⭐⭐⭐⭐
Learn more about how we score.
Features
18 manual grind settings
Convenient, portable, easy to use
Can grind fresh coffee every day so you can have fresh coffee for your French press or other coffee makers
Ceramic burrs make it built to last
Consistent grinding means you know your coffee will be good every day
The grind selector is built into the grinder and has over 18 manual grind settings to ensure you have complete control over how coarse or fine you want your coffee to be. The best part is each setting does the same job every day so you can be sure your grounds are consistently even and ready to be brewed.
The hand crank is removable and makes the grinder about 90% less noisy than traditional coffee grinders. There are also no batteries, power, or cords that you have to deal with. The low noise and the no battery features make it really great for traveling or using in your office.
The grinder only dispenses the amount you grind and can be tailored to fit how much you want to use. This means you won't waste any grounds or fresh coffee.
The grinds can be as fine or as coarse as you prefer and can be used with any coffee maker or machine. The most commonly used machines with this grinder are the AeroPress, a French press, or a pour-over coffee maker. All are perfect to be used with this grinder and will make you a perfect cup of coffee.
JavaPresse also makes Japanese cookware out of Ceramic Burrs, and they use the same great material for this coffee grinder. All the grinders go through a 3-step inspection process so you can be sure they are completely safe and ready to be used. The ceramic burrs are meant to last about 5 times longer than stainless steel burrs.
The ceramic was also created with a patented professional-grade ceramic conical burr. This is what makes the grinding so efficient and reliable. The grinder also comes with a warranty and a complete money-back guarantee if you don't like the way the grinder performs.
The grinder only weighs 9.4 ounces, another reason why it is so portable and easy to use. Since it is a manual grinder, it does cause some more effort and control to use. Other automatic grinders just have a simple grinder you need to push and then you'll be ready to go. This manual grinder will cause you to put some more work into it. However, since you are grinding it by hand, you will be able to make it more consistent and to your liking.
JavaPresse is also very well-known for its customer service. If you have any problems with the grinder, don't hesitate to contact them. The product comes with a warranty and a 10% money-back guarantee.
They usually respond to emails and inquiries in one day or less and are always ready to address the problem. If any part of the grinder doesn't seem to be performing well or breaks easy, contact them right away.
Pros
Very lightweight
Easy to use and carry around with you wherever you go
Durable and built to last
Consistent and reliable grounds
Works with AeroPress and French press
Cons
Manual means you have to put in more arm effort than with an automatic grinder
Tends to make better coarse grinds than fine grinds
The piece behind the conical burr can break easy
Reservoir for the grounds is very small
Helpful tips
Always clean it as soon as your done
Consider using a soft brush so you can make sure to get all the coffee grinds out
Empty the reservoir completely
Let it dry completely before you grind the coffee, or it will stick to the walls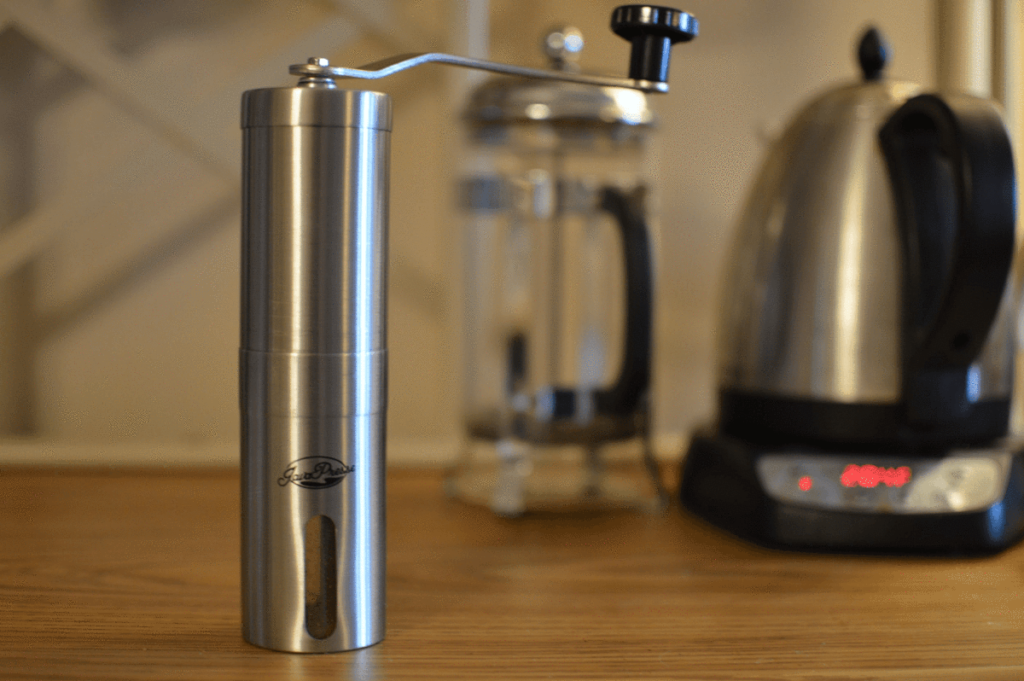 Conclusion
Overall, this is a great coffee grinder if you don't mind doing it manually. It's also cheap so if you're new to coffee grinding, you don't have to invest too much money at the beginning. It's also easy to use and clean which makes using it a breeze.