Coffee lovers are spoiled for choices when it comes to brewing their perfect cup of joe. One of these is the relatively new, Aeropress, which uses a piston-style mechanism to force the coffee through a paper filter straight into a cup. All you need is the best kettle for Aeropress that ensures a steady pour for amazing coffee every time.
My Top Aeropress Kettle Recommendations
Brewing coffee may seem simple, but it comes with its complexities that you can overcome with the right equipment and technique. Thus, when investing in a kettle specifically for making Aeropress coffee, consider all its features that will help deliver the best tasting coffee.
The ideal kettle provides you with maximum control of the water's flow rate, allows you to pour the exact amount of water, and heats the water at the optimum temperature. Read below to find out which kettle works best to make a delicious cup of Aeropress coffee:
Brand
Cuisinart CPK-17 PerfecTemp
Coffee Gator Gooseneck Kettle
Product
Product
Brand
Cuisinart CPK-17 PerfecTemp
Product
Brand
Coffee Gator Gooseneck Kettle
Product
Best Overall Kettle for Aeropress: Fellow Stagg EKG
My top pick for the Aeropress kettle is the Fellow Stagg EKG. It is a chic, stainless steel electric kettle with a capacity of 0.9 liters, which is the smallest volume on my list.
To begin with, it has a narrow gooseneck spout crafted at a perfect angle that offers precision and control when you pour water into your Aeropress. It allows you to optimize the flow rate so you can extract maximum flavor from your coffee grounds. The built-in brew stopwatch also helps you time your pour to the second.
I really appreciate its unique handle design as it is heatproof, provides a comfortable grip, and counterbalances the weight perfectly. Consequently, you have optimum control over your water stream; even the slow pour is convenient to manage.
It comes with a programmable temperature range of 135 to 212 degrees Fahrenheit. This ensures the precise water temperature required to make Aeropress coffee, which is brewed at a lower temperature than other coffees. The water temperature is displayed on a sleek LCD, along with the goal temperature. It has a fast heat-up time, similar to the Cuisinart PerfecTemp kettle on my list.
Finally, the Fellow Stagg can keep the water temperature stable for up to 60 minutes, which is particularly useful when you have to make multiple cups of water using a single Aeropress.
Pros:
Variable temperature control so you can input the exact water temperature
Fast four minutes heat-up time
Weighted, ergonomic handle for easy pour
Maintains water temperature for one hour
Cons:
The temperature on the display is not always accurate
Stainless steel ring, connecting the handle to the body, is susceptible to heat
Fellow Stagg EKG Electric Gooseneck Kettle -...
STAGG EKG ELECTRIC KETTLE: Simple aesthetic meets powerful design. A gooseneck kettle that pours as...
PRECISION POUR: Stagg EKG's sleek pointed spout is designed for a powerful but precise stream for...
TEMPERATURE MATTERS: Speed up your brewing process with Stagg EKG and its 1200-watt quick-heating...
Best Non-Gooseneck Kettle for Aeropress: Cuisinart CPK-17 PerfecTemp
The Cuisinart CPK-17 PerfecTemp is a reliable, sturdy kettle that is amongst the best in the non-gooseneck variety. It does the job well and comes with a generous capacity of 1.7 liters, which is the largest amongst all the kettles on my list.
The Cuisinart PerfecTemp comes with a number of features, which makes it easy to use. First, the kettle has six preset temperatures including 160, 175, 185, 190, and 200 degrees Fahrenheit as well as a boil option. However, it can lack accuracy to the exact degree when set to lower temperatures of 160 or 175 degrees Fahrenheit.
Nonetheless, the range of temperatures is useful when you are making Aeropress coffee since it requires a temperature of 175 to 185 degrees Fahrenheit to brew the mellow coffee.
Moreover, it maintains the water temperature for up to 30 minutes, which is less than Fellow Stagg's 60 minutes but still relatively long to allow you to make a decent number of coffee cups using the Aeropress.
With the "internal" memory function, you can remove the kettle from the base for up to two minutes before it goes into standby mode. It resumes its function (heating or Keep Warm) when replaced on the base. Both these features allow you to brew multiple cups of Aeropress coffee without reheating the water repeatedly.
Pros:
Boil-dry protection that helps conserve energy and protect the equipment
Removable scale filter to provide ease of cleaning
 4-minute boil time for 1 liter of water
Cons:
Absence of temperature gauge
No gooseneck spout that enables controlled pouring
Cuisinart 1.7-Liter Stainless Steel Cordless...
1500 watts for fast heat-up and 1.7-liter capacity
6 preset heat settings (160°F for delicate teas, 175°F for green tea, 185°F for white tea, 190°F...
One-touch controls with blue LED indicators, 30-minute Keep Warm option, and 2-minute memory feature
Best Aeropress Kettle for Camping: Coffee Gator True Brew Coffee Kettle
Next on my list is the Coffee Gator True Brew Kettle, a new and improved version in the already impressive line of kettles. It has a stainless steel body, which has a generous 1.6-liter capacity rivaled only by the Cuisinart PerfecTemp.
It comes with a silicone jacket, which makes handling the big kettle and pouring water a lot easier, as you do not have to worry about burning your fingers. Moreover, the silicon covering also helps retain the heat inside the kettle, which is helpful since the kettle does not have a "keep warm" function, like Fellow Stagg, Cuisinart, and Brewista kettle on my list since it is a stovetop kettle.
The Coffee Gator understands the importance of the exact water temperature for brewing Aeropress coffee. Therefore, the kettle comes with a 360-degree swiveling thermometer mounted on the kettle. The thermometer has separate color-coded readings in both Celsius and Fahrenheit, which are easy to read at a glance. Unfortunately, you have to stand with the kettle to monitor the water temperature since it lacks the pre-set temperature feature.
Aeropress is popular amongst campers due to its lightweight and durability. Since you can use the Coffee Gator Kettle with any heating surface due to its reinforced base, it can be an ideal companion for your Aeropress when you go camping. The kettle is also rugged and comes with its lid attached making it easier to carry.
Pros:
Easy to track exact temperature with the mounted thermometer
Insulated silicone jacket with grip points to control the pour
Cons:
The absence of automated temperature control, unlike other kettles on the list
Unable to maintain water temperature
Coffee Gator 52oz Gooseneck Kettle with...
BARISTA-APPROVED: Channel your inner barista with our pour over coffee and tea kettle and make the...
PREMIUM GRADE: Engineered in high-quality stainless steel with a goose neck spout for a steady water...
BUILT-IN THERMOMETER: Take the guesswork out of brewing at the optimal temperatures with our...
Best Stovetop Kettle for Aeropress: Hario-V60 Buono Coffee Drip Kettle
The Hario V60 "Buono" Drip Kettle Stovetop Gooseneck... comes with a classic, clean design. Its stainless steel body has a 1.2-liter capacity, which is a bit more than most kettles but less than the Cuisinart PerfecTemp and Coffee Gator kettle on my list.
The flat-bottom kettle is durable, easy to clean, and perfect to use over any stovetop, similar to the Coffee Gator kettle. Unfortunately, unlike the Coffee Gator, it does have any insulation causing the thin metal to lose heat quickly. Therefore, if you want to make more than a cup of Aeropress coffee, you will have to reheat the water.
The kettle is lightweight with a well-designed, comfortable handle, which is easy to grip and provides you with control when pouring. The low-mounted, slim spot also provides a straight-line flow. However, it can be difficult for beginners to control the water flow. You need to practice finding the right angle to achieve a steady flow rate when making an Aeropress coffee.
Thus, it is no surprise that the simple yet intuitive design features make Hario a favorite amongst professional baristas. If you are new to making Aeropress coffee, go for some of the other kettles on the list to perfect your technique.
Pros:
The simple, lightweight body makes it easy to lift and use the kettle
High-quality coffee brewing experience when handled by professionals
Easy to clean due to a wide mouth
Cons:
A thin metal body that loses heat quickly
Absence of the temperature gauge, which requires additional instruments
Hario V60 "Buono" Drip Kettle Stovetop Gooseneck...
Buono Coffee Drip Kettle: Stunning stainless steel stovetop kettle that's easy to use and offers a...
Controlled Pour: Slender gooseneck spout allows for a slow, steady, and controlled pour. Great for...
Kitchen Essential: Easily boil water for manual coffee brewing, tea or cooking. Perfect for daily...
Best Aeropress Kettle for Temperature Control: Brewista Artisan Electric Gooseneck Kettle
A sleek, modern design sets the Brewista Artisan Electric Gooseneck Kettle apart from all the other kettles on the list. The one-liter kettle combines design with a range of features.
It comes with an LCD display that allows you to program the exact temperature anywhere between 175 to 208 degrees Fahrenheit. While the range is impressive and adequate to brew the Aeropress coffee, it is lesser than the range provided by the Fellow Stagg.
Once the kettle has reached the desired temperature, you can change the settings with a button to keep the water temperature at the same level for one hour. As I discussed above, the feature allows you to brew multiple cups of Aeropress coffee. However, it takes up to six minutes for the water to reach the boiling temperature, which is more than the time taken by both Fellow Stagg and Cuisinart for one liter of water.
Brewista kettle comes with a built-in timer that is especially useful while using Aeropress. After you remove the kettle from the base, the timer starts so you can track your pour time to ensure a flavorful cup of coffee.
Finally, the long, perfectly curved gooseneck spout offers incredible control and the handle comes with a finger-notch for added comfort. The simple design features elevate your Aeropress coffee-making experience.
Pros:
Variable range of temperature with 1-degree accuracy
Ergonomically design spout for easy-to-control pour
Programmable timer to track your pour-rate
Holds the water temperature for an hour
Cons:
A bigger size can make it a bit clumsy to operate.
Takes more time to bring water to boiling temperature
Brewista Artisan Electric Gooseneck Kettle, 1...
Precise Temperature Control: With pinpoint heat accuracy, release the complete flavor profile of...
Steep Teas: We designed our electric kettle for all types of hot beverages, especially for a...
Pleasant Pour: Kettle features an ergonomic, comfort-grip, "goose tail" handle and gooseneck...
Features to Consider for Aeropress Kettles
Capturing the maximum flavor from your coffee grounds is the main goal of using an Aeropress and the right kettle can supplement these efforts. Therefore, you should know in-depth about the various functionalities of a kettle, which will guide you towards informed decision-making. Following is a list of factors, you should consider before investing in a kettle to brew your Aeropress coffee:
| | | | | | |
| --- | --- | --- | --- | --- | --- |
| | Fellow Stagg EKG | Cuisinart CPK-17 PerfecTemp | Coffee Gator True Brew Coffee Kettle | Hario-V60 Buono Coffee Drip Kettle | Brewista Artisan Electric Kettle |
| Capacity | 0.9L | 1.7L | 1.6L | 1.2L | 1L |
| Automated | Yes | Yes | No | No | Yes |
| Gooseneck | Yes | No | Yes | Yes | Yes |
Pour Rate
Pour rate is very important when making coffee using an Aeropress. You should be able to control the quantity of water precisely to create the concentrated brew. Thus, the best kettles are acutely receptive to subtle shifts in the grip to increase or decrease the flow rate accordingly.
Moreover, you need a steady stream of water to pour slowly into the device's chamber to extract the flavor from the coffee grounds evenly. If water splashes out too quickly or drools at the spout, it can ruin the final taste of your coffee.
The Hario-V60 Buono Coffee Drip Kettle on my list provides the steadiest flow when used expertly, whereas Fellow Stagg and Brewista provide adequate pour control for manageable everyone.
Make sure to also pair up the best coffee grinder for the Aeropress as well!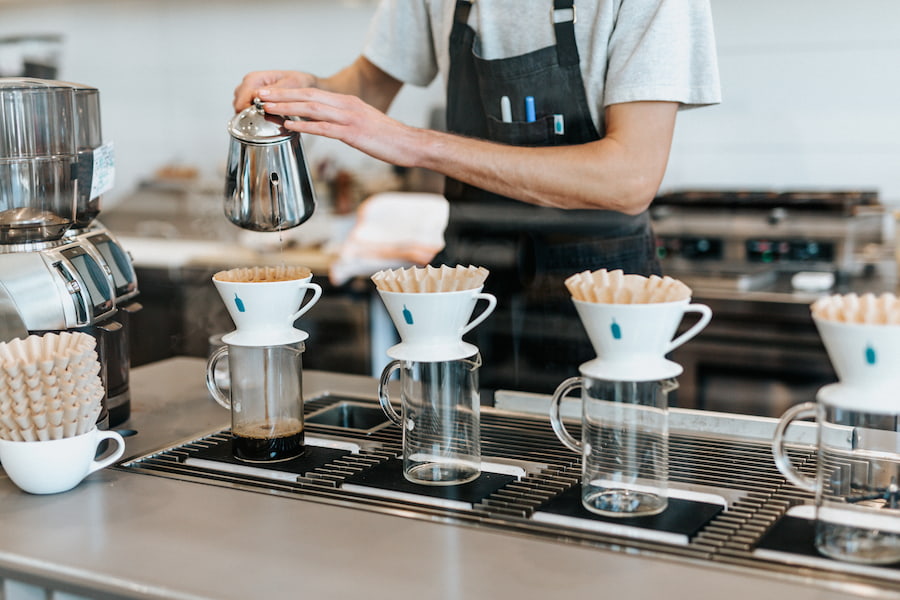 Temperature Control
Aeropress coffee is brewed at a lower temperature of 175 to 185 degrees Fahrenheit. While you can achieve this temperature using any kettle, the precision offered by the programmable temperature feature on electric kettles is unparalleled. You can input the exact temperature you want to achieve and allow the kettle to do its job. The Brewista Artisan Electric Kettle offers the most accuracy in terms of temperature.
However, some stovetop kettles like the Coffee Gator come with a built-in thermometer that is very convenient and allows you to track the temperature manually. The feature eliminates the need for added equipment when using a stovetop kettle.
Ease of Use
Aeropress has a faster pour rate than other pour-over coffees, so you do not have to hold the kettle for long. Regardless, you still want a level of comfort and a good balance while adding water into the Aeropress chamber. Therefore, look for a handle that is comfortable to grip and shaped well for a perfect hold. The water should pour out with the minimal movement of the wrist.
All of the kettles I discussed above offer competitive usability. They are not awkward to manage when filled with water due to the well-placed handles and spouts. That being said, both Fellow Stagg and Brewista have better ergonomically designed handles that counterbalance the weight of the filled kettle and help you control the pour.
Material
Most of the kettles are made with stainless steel but what differentiates them is the thickness and quality of the metal. Low-quality stainless steel is also prone to rust, wear-and-tear, and cracking along the joints.
Lower density stainless steel loses heat faster, as is the case with the Hario kettle on the list. You need to reheat the water constantly if you are making more cups since Aeropress makes only one cup at a time. On the other hand, kettles with denser stainless steel bodies can hold the water temperature longer. The added insulated covering like the one in Coffee Gator further supplements heat retention.
Capacity
When talking about choosing a kettle for Aeropress coffee, the capacity is only useful if the kettle comes with a Keep Warm function or it is made with a material that is dense and provides some level of insulation.
The reason behind it is that it takes around two to three minutes to brew one cup of Aeropress coffee depending on which method you use. If your kettle is unable to maintain the optimal temperature for Aeropress coffee, there is no point in having a kettle with a large capacity. Ideally, you should opt for a kettle with an average capacity of one liter.
However, if you regularly make a lot of cups of coffee for family and friends, the Cuisinart PerfecTemp would be a good option for you. It keeps the water at the desired temperature for up to 30 minutes and has a large capacity.
Electric or Stovetop
Choosing between an electric or stovetop kettle depends on your personal preference. Whether you want a range of features, are relatively new to the Aeropress coffee world, or want a kettle on the go, all these factors influence your decision.
Electric kettles offer convenience, a host of functionalities, and relatively accurate temperature control. They are also faster and more straightforward to use. However, they are not portable and you can only use them to brew Aeropress coffee at home.
Contrarily, while stovetop kettles may not display the exact water temperature, people who have been using stovetop kettles for Aeropress coffee have expertise that allows them to predict that the water has reached the perfect temperature. Moreover, you can take them along on trips with your Aeropress, which is a popular brewing method for campers and travelers.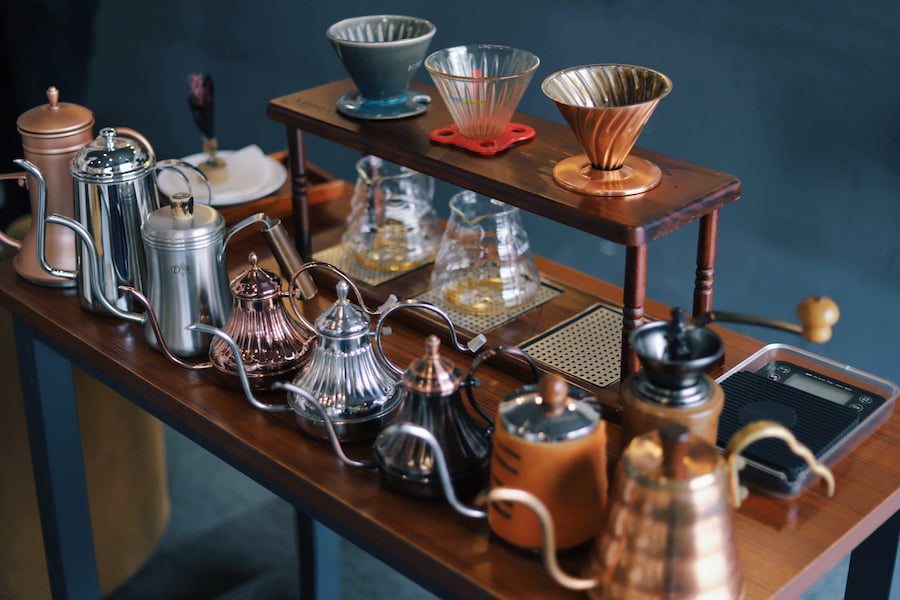 Ease of Cleaning
Aeropress is very easy to clean. You can dismantle it into separate parts (the chamber, plunger, filter cap, and seal) and rinse it well after every brew cycle or wash it with mild soap. The point is that since Aeropress is super simple to maintain, it should be accompanied by a kettle that is equally easy to clean.
While ease of cleaning may not appeal to you as some of the other more exciting features, it is a necessary one. This is because if you do not clean up your kettle regularly, it will have a hard water buildup that will affect the taste of your coffee.
Therefore, look for kettles with a wider opening so you can reach every nook and cranny, as well as additional features that ease the cleaning process. All the kettles listed above are simple to clean but the removable scale filter in the Cuisinart PerfecTemp adds a layer of ease.
Frequently Asked Questions
Is Aeropress Worth the Hype?
The Aeropress has unique virtues that make it worth consideration. It is a budget-friendly option for brewing delicious coffee. In addition, it is straightforward to use and simple to clean, making it one of the best options for concentrated coffee in small amounts. Finally, it is compact, durable, and lightweight, so you can take it along on your trips.
Can I Use Coarse Grind in Aeropress?
Traditionally, Aeropress coffee is made with fine to medium coffee grounds. However, you can also use coarse ground as well. The primary difference you may notice in the flavor is that a coarser grind makes a sweeter brew, with a bit less acidity than the finer ground. You can experiment with your grind size to determine which flavor you prefer.
Conclusion
You need the right kettle to brew good coffee using the Aeropress. Reading through the best kettles available and their prominent features should give you an idea of what works best for you. Your final decision will help you improve your coffee brewing game, so you never have to drink a bad cup of coffee again.