You finally made that perfect cup of coffee you were craving all day. And just as you sat down to enjoy it, you got a call from work. So you set it aside and came back to a disappointing cup of cold coffee. You consider reheating it but are not sure if your mug is microwave-safe.
Most coffee lovers spend an unimaginable amount of time trying to find the perfect coffee maker and roasted beans but often overlook the coffee cup, which is just as important for an unforgettable experience.
Microwavable coffee mugs come in a range of materials, each with its own set of benefits and drawbacks. Currently, there are ceramic, glass, hard plastic, and steel coffee mugs available in a variety of sizes, shapes, and colors, allowing you to meet both your aesthetic and practical needs at the same time.
To save you from spending too much time on extensive research, check out this shortlist that will help you find the best microwavable coffee mugs.
My Top Picks for You!
Before getting started, you should consider what you want in a mug. What is the most important feature you are looking for?
Are you the type of person that needs more coffee than usual in the morning to get through the whole day? Do you want a mug that is appealing or one that has excellent insulation and lid, so you can take it with you on the go? Or are you looking for a mug that you can safely heat in the microwave?
These are the types of questions you should be asking yourself before settling on a final product. Now let's get started on the list, shall I?
1. Bosmarlin Large Ceramic Coffee Mug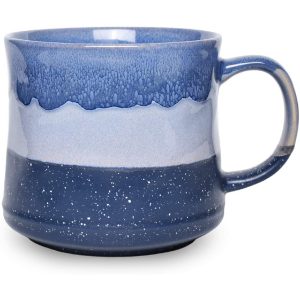 My top recommendation is the Bosmarlin Coffee Mug. Not only is it one of the best purchases you can make for yourself, but it is also a great gift to get for your loved ones.
This microwavable mug is made of exceptionally high-quality ceramic. It has a smooth finish and is available in several colors. And even with its capacity to hold up to 21 ounces of liquid, it is surprisingly lightweight.
The best thing about this set of coffee mugs is that you will not have to worry about your drink getting cold. What's more, its ability to resist high temperatures makes it both microwavable and dishwasher-friendly. No need to put in that extra effort on your lazy mornings anymore!
Pros
Its appealing design and the unique glaze technique used in its production make it an ideal holiday gift

Its large capacity allows for bigger servings

Its large handle provides a secure and comfortable grip
Cons
The glaze is not very durable and wears away after several uses

It does not come in protective packaging
2. Zovoko Double Wall Insulated Glass Coffee Mugs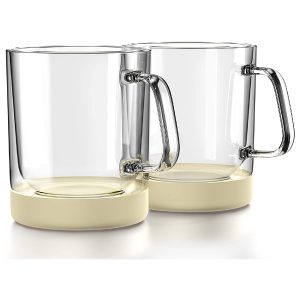 Glass coffee mugs have always been in demand as many coffee lovers like how they look. It is also a popular opinion that glass is the best material for preserving the drink's flavor. Because glass does not leach harmful chemicals or give off strange after-tastes, it keeps your coffee pure. 
A single layer of glass will not retain the heat of your drink for very long. Fortunately, you can solve this problem by getting Zovolo's double-wall glass mug. The extra layer in this mug does not allow the heat to escape.
Not only is the mug dishwasher-friendly, but you can also safely put it in the microwave. With the silicone base and the double-wall insulation, the chances of burning your hand after heating up the mug are zero!
Best of all, the Zovoko glass coffee mug comes in pairs so you can enjoy a fresh cup of coffee with a loved one.
Well then, what are you waiting for? Get your hands on this incredible pair of mugs today!
Pros
The double-wall adds additional insulation

Microwave and dishwasher safe

Removable base made of silicon 
Cons
It is not portable as it does not come with a lid
3. Elixir Glassware Double Wall Coffee Mug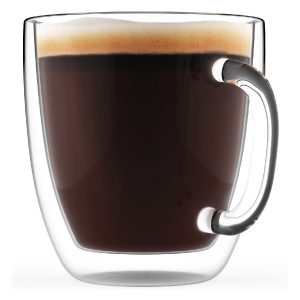 If you are someone who likes to see what they are drinking, this one is definitely for you! The Elixir Glassware Double Wall Coffee Mug has a lovely design made of lightweight borosilicate glass. 
The most distinctive feature the brand offers with this fantastic product is the inclusion of double-wall insulation. This allows you to keep your favorite beverage hot or cold longer. Also, you will never burn yourself on this mug because of the wide gap between the two layers.
Furthermore, it decreases the possibility of sweat forming on your palms when you hold it.
Along with a mesmerizing appearance, the glassware can hold up to 16 ounces of any drink, an ideal size that wouldn't require a refill.
Elixir Glassware does not only deliver exceptional products but excellent customer service as well. They make sure to satisfy each of their customers and go the additional mile to meet their demands. This incredible coffee mug is backed by a guarantee that none of the company's competitors offer. So why settle for anything less?
Pros
Microwave and dishwasher safe

It is well insulated due to its double-wall construction

16-ounce capacity is ideal for meeting all your morning demands

It comes with a guarantee
Cons
The glass is thin and fragile
4. Bosmarlin Glossy Ceramic Coffee Mug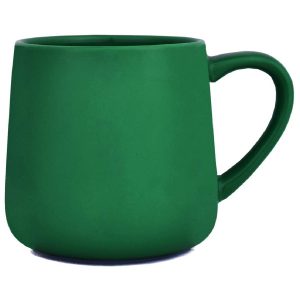 Are you looking for a minimalistic design without compromising quality? Well, look no further than the Bosmarlin Glossy Ceramic Coffee Mug. This incredibly simple yet gorgeous mug is made of lead and cadmium-free ceramic. The coffee mug also has a sleek and shiny finish that adds to its amazing exterior. 
Not only that, but it also comes in a variety of colors, making it a worthy gift for a coffee lover. The Bosmarlin Ceramic Coffee Mug is also microwavable, as the material can easily resist high temperatures.
Best of all, it can hold up to 18 ounces of liquid, and its broad handle allows for a comfortable grip. So, say goodbye to accidental spills.
Pros
It has minimalist design that meets all of your requirements

The high-quality ceramic offers durability and sturdiness

It has a large holding capacity that is perfect for those who like to drink a lot of coffee in one sitting
Cons
It is not lightweight enough

The colors are not as vibrant as advertised
5. Dowan Porcelain Coffee Mug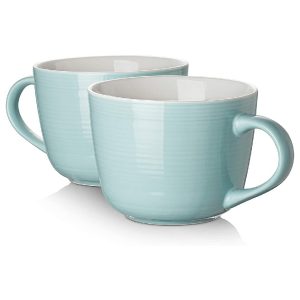 Are you looking for a multi-purpose mug? To help you save space in your kitchenware cabinet and take your lifestyle towards sustainability, Dowan has produced the perfect mug for you. With a wide mouth and an easy-to-grip handle, this wonderful mug also doubles up as a soup and cereal bowl.
This porcelain coffee mug is highly resistant to scratches, stains, and strong chemicals. Additionally, the material will be unaffected by a wide range of high temperatures, making it microwave safe. The mug can hold up to 17 ounces of liquid, making it ideal for those days when you need a bit more coffee to get by. What's more, the Dowan Porcelain Coffee Mugs come in a set of two. So, you can share a hot cup of joe with a friend as well. 
Pros
It has a versatile size that can be used for both food and drinks

Classy, minimalist appearance. The added white glaze on the interior also makes it great for formal events

The porcelain is safe and durable
Cons
The size of the handle does not go very well with the wideness of the cup
6. W&P Porter Ceramic Mug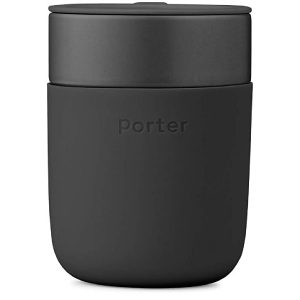 If you are someone who is constantly on the go and does not have time to reheat their coffee, then the final product on our list might just be the mug for you. The W&P Porter Ceramic Mug is an alternative to the usual disposable cups that pollute the environment.
This long-lasting portable coffee mug can fit into almost all the cup holders of various vehicles, so it is perfect for traveling. It is made of ceramic with an elegant silicone matte coating that acts as a protective layer. It also gives the cup an elegant appearance.
This coffee mug is safe to put in the microwave and dishwasher, making it incredibly easy to clean.
It also has a spill-free lid that will not leak. What more could you ask for in a mug?
Pros
The mug has a captivating design

It is microwaveable, dishwasher-safe, and portable

It is almost unbreakable
Cons
It does not have an insulator, so it will not keep your drink hot for long

It is a little expensive for its size
Things to Consider Before Buying a Microwavable Coffee Mug