In my busy routines and hectic office hours, the one thing that always keeps me up and running is coffee. A hot cup of coffee keeps you energized and awake throughout the day. But from the second I open my eyes, it feels like I am in a rush. I am rushing to get ready, rushing to get to work, rushing to get through work, and rushing to get back home. And when I also grab a piping hot cup of coffee during this mad rush, what ends up happening? I spill my precious drink all over the place! 
So, what could be done to avoid this miserable situation? Modern problems require modern solutions. And so, I now have spill-proof coffee mugs! A spill-proof mug will keep your coffee in your mug and off your clothes.
Spill-proof mugs come in a variety of designs and colors. But the best thing about the spill-proof coffee mugs is that they are reusable, which means that they are eco-friendly. Check out my list of the 7 best spill-proof coffee mugs available on Amazon.
Best Spill-Proof Coffee Mug
To help you find the perfect mug for you, I have sifted through all the available options on Amazon and found the 7 best spill-proof mugs! Read on to learn all about their wonderful features!
1. Iron °Flask Grip Coffee Mug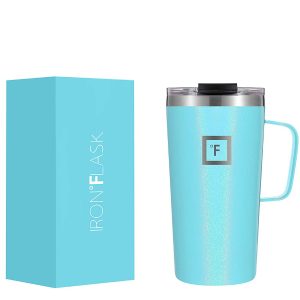 The Iron °Flask Grip coffee mug is at the top of my list due to its best characteristics. This coffee mug has a vacuum-insulated, stainless steel body with a covering lid that allows no spill at all. The best part about this mug is that it comes in 25 different colors. It has a capacity of 16 ounces which is pretty much for a morning coffee session. Numerous features add it to the list of my best spill-proof coffee mugs. Some features are as follows:
Stainless Steel
The travel mug is made of 18/8 premium stainless steel. It will not change the flavor of your coffee. Even better, it will preserve the aroma of your energy booster for longer durations.
Design
The Iron °Flask travel mug has a powder coat finish on the exterior. On this powder-coated exterior, the company's logo is laser engraved, which gives a fine detail and a beautiful look. Overall, there is a matte and smooth texture outside of the mug.
Flipping Lid
This coffee mug has a 100 % leak-proof clear lid. You can use it for both hot and cold beverages.  The flipping lid makes it easier to open and close the mug.
Vacuum Insulation
The vacuum Insulation feature promises to keep your coffee hot for up to 4 hours and cold coffee cold for up to 18 hours. Perfect for an on-the-go coffee session. Moreover, this is a sweat-free mug due to its insulation property.
Pros
Easy to hold

Easy cleaning

Leak-proof
Cons
It is not easy to drink from the flip lid

Difficult to close the lid tightly
2. Swig Life Spill-free Coffee Mug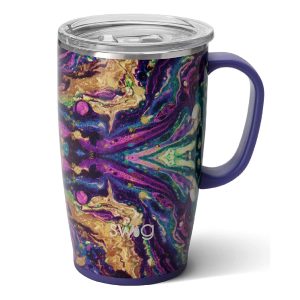 Behold! The coolest-looking coffee mugs are in town. With its leak-proof and spill-free lid, the Swig Life coffee mug is built for travelers. This mug can hold 18 ounces of fluid. It comes in a total of 44 different designs. You can wash this mug by hand or in the dishwasher. It is definitely worth the money. I promise you won't regret it!
Some of this mug's outstanding features are mentioned below:
Silicone Base
The silicone base of this mug keeps it scratch-free, slip-free, and noise-free. It does not make any noise when placed somewhere or when it falls.
Vacuum Insulation
This travel coffee mug has a double-walled vacuum seal and copper-plated insulation that keeps the beverage hot for up to 3 hours and cold for up to 9 hours. So you can even take this mug on your travels through the subway.
Spill-Proof Lid
This Swig Life coffee mug has a spill-proof, clear slider lid that prevents the coffee from tipping over or spilling over. Lid color may vary by different styles of mugs.
Car Cup Holder
This tall coffee travel mug fits perfectly in most car cup holders. So there's no worry of holding the cup with one hand and controlling the steering wheel with the other hand, which is unsafe.
Awesome Gift
This Swig Life coffee mug is the perfect gift for a coffee lover. The wide array of colors and styles gives you tons of options to choose from. So, you can choose the gift to suit your loved one's personality.
Pros
Dishwasher Safe

It makes a wonderful gift

It fits in the car cup holders
Cons
The sipper on the lid is too wide, which can make the coffee drip when you drink

The lid is hard to clean
3. Ello Miri Travel Coffee Mug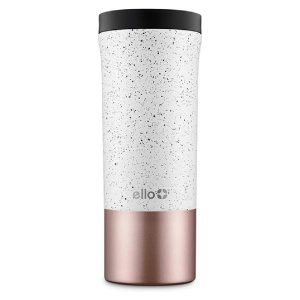 The Ello Miri Travel coffee mug is a uniquely designed coffee mug that allows you to drink coffee without any tension of spills or stains. It comes in two colors; black marble and speckle rose gold. This mug has a capacity of 16 ounces of fluid. The lid is dishwasher safe, but you will have to wash the body by hand.
Head below to explore more features of this mug:
Leak-Proof Slider Lid
The slider lid is leak-proof, which makes it an ideal choice for travel purposes. The wide hole on the lid also allows you to use a straw for your coffee.
Stainless Steel
The body is made up of premium quality stainless steel. It means that the mug will not rust after fluid contact. It will neither give you a bad rustic taste in your coffee.
Vacuum Insulation
The stainless steel body of this Ello travel mug is vacuum insulated, which keeps your beverage hot for up to 5 hours and cold for up to 24 hours. This mug is best for cold coffee.
BPA-Free
The Ello travel mug is BPA-free, meaning it does not use the organic compound Bisphenol-A. This is a major plus, as BPA is harmful to the human body and can even lead to diseases. But with the Ello travel mug, you won't have to worry about that!
Pros
Spill-proof

Fashionable design

Easy to clean
Cons
The exterior is not sweat-proof

Not safe to put in the dishwasher
4. Valueder Spill-proof Coffee Travel Mug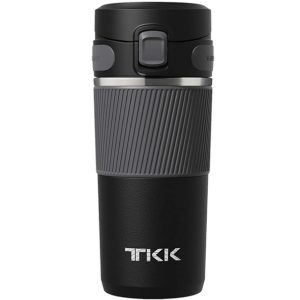 If you're looking for a mug that gives 'boss mug' vibes, then you must try the Valueder spill-proof coffee mug. This coffee travel mug has a stunning exterior with fine details. Although it is inspired by tumblers, it is not one. It comes in 3 colors. The fluid capacity of this mug is 14 ounces which is enough if you need a standard amount of coffee.
This Valueder coffee mug comes with the following features:
Spill-Proof Mouth
This mug does not come with a sliding lid, but it has an attached leak-proof lid and can be locked. The mouth is wide and U-shaped, so sipping becomes easy with Valueder's silicone sealed sipper.
Wide Mouth
This mug has a wide mouth through which you can pour coffee in any jug, or you can put ice cubes in it as well. So there's no problem with a narrow coffee mouth.
Safe to Use
This coffee mug is BPA-free, which means there are no harmful chemicals in the mug. It is safe to use by everyone.
Stainless Steel Interior
The mug has a dual-wall and vacuum insulated interior made of stainless steel. The vacuum insulation keeps the coffee hot for up to 7 hours and cold for up to 12 hours. Best of all, it does not give your coffee a foul taste.
Pros
Easy to use

Can fit in car cup holders

Stylish design
Cons
Fluid capacity is a little less than 16 ounces

It might leak
5. CS COSDDI Coffee Travel Mug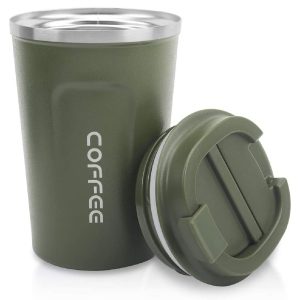 Next, I have the CS COSDDI travel coffee mug. This mug comes in handy when you're not a coffee freak and just need a quick shot of coffee to start your day. This thermal mug comes in 9 elegant colors, each perfect for taking to work. The CS COSDDI can hold up to 12 fluid ounces of hot or cold coffee. The visual appearance of this mug is like a tumbler. However, it is a unique and beautiful design.
The CS COSDDI travel mug has the following features:
Thermal Insulation
The thermal insulation technology in this mug keeps the beverage hot for 4 hours and cold for 6 hours. It can be taken to the office as well because of its decent appearance.
Leak-Proof Lid
The screw-in threaded cup lid is equipped with a sealing ring that does not let the coffee spill. The lid has a wide mouth, which makes drinking easy.
Rubber Cushion
It happens at times that the coffee mugs slip due to slippery edges. Not here! Thanks to the rubber cushion fitted on the bottom, this mug will never slip through your hands!
Safe Material
The 304 stainless steel material keeps your coffee safe from rust, and the BPA-free technology saves you from the diseases and effects of Bisphenol A. Thus, it's super safe to use.
Pros
Leak-proof Lid

Easy to clean

Decent Design
Cons
The top lip of the stainless steel is a little rough

Small size
6. Simple Drink Insulated Travel Coffee Mug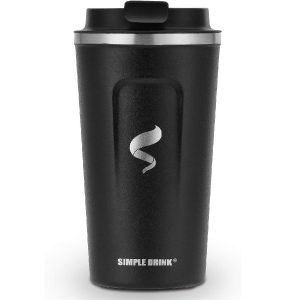 The Simple Drink Insulated Travel coffee mug is perfect for when you need to grab and go. This tumbler-inspired coffee mug works great for hot and cold beverages. What's more, it comes in 7 colors, including a pure stainless steel exterior. This mug is narrow and easy to grab by one hand with 16 fluid ounce capacity. The best part is the overall appearance.
The following features make this spill-proof mug one of the best:
Material
The interior of the Simple Drink mug is made of high-quality stainless steel.  The interior is thermally insulated as well, which means your coffee will stay hot for a good time.
Design
This mug has a chic matte finish to it because of the powder coating on the exterior. The mug is available in green, brown, black, blue, pink, and shades of similar colors. All the shades look beautiful in the hands.
Lifetime Guarantee
The Simple Drink provides a lifetime guarantee to its users. So if you find any defect in the lid or the mug itself, you can report it. You might get a new product or the money back.
Spill-Proof Flip Lid
The spill-proof flip lid is also powder coated and prevents the beverage from spilling or leaking. It has a flip-open mouth, which is wide enough for regular gulps of coffee.
Pros
Easy to hold

Easy to clean

Spill-proof lid
Cons
Inner surface rim has a sharp edge that may cut your hand while washing

Less heat retention
7. Dlunsen Travel Coffee Mug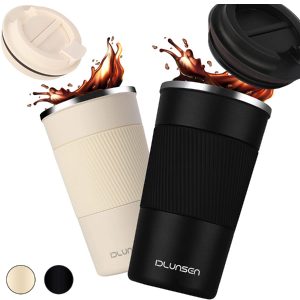 Dlunsen Travel Coffee Mug is a spill-proof, leak-proof, eco-friendly, reusable coffee mug that you can take a long while heading outside. It is made up of fine-quality stainless steel, with a maximum fluid capacity of this mug is 17.5 ounces. This mug is available in black or white colors and with a non-colored stainless steel exterior. It will make a super cool coffee mug that you can also use at home.
Many features place this mug in my list of best spill-proof coffee mugs. A few of its top features are as follows:
Non-Slip Silicone Sleeve
The silicone sleeve on the exterior of the body prevents the mug from slipping out of your hands. Plus, it adds an elegant touch to the overall look of the mug. 
Leak-Proof Lid
The leak-proof lid not only saves you from leakage of coffee but is also BPA-free and saves you from diseases. The lid consists of a silicone sealing ring and a splash-proof flip for convenient drinking.
Material
Dlunsen never compromises on quality. Therefore, the interior is constructed of SUS326 stainless steel, which is of the finest quality and does not lose its strength over time.
Double-wall Insulation
The interior of this classy, spill-proof mug is thermal and vacuum insulated. This technology keeps the coffee hot for a time span of 6 hours. It also keeps the coffee cold for a time span of 8 hours.
Pros
Leak-proof

Spill-proof

Easy to hold
Cons
Not safe to put in the dishwasher or microwave

It might leak if you don't tightly seal the lid
Buying Guide
Although the spill-proof coffee mug is a simple product to search for, you need to consider the following features when buying one for yourself. 
Spill-Proof Lid
A high-quality spill-proof lid is the essential part of a spill-proof mug because it is the key feature that will prevent coffee spills. You need to invest in a mug that comes with a strong enough lid to keep your coffee in your cup.
Thermal and Vacuum Insulation
When you have a mug with a lid, the interior body of the mug needs to be thermal and vacuum insulated. This will help retain the temperature of the coffee for a longer time.
BPA-Free
Regular ceramic coffee mugs are free of BPA in them. However, other materials like rubber or plastic do contain BPA, which is extremely harmful to the human body and can cause various diseases. Therefore, when shopping for a spill-proof coffee mug, make sure that it is completely BPA-free.
Powder Coating
This may seem like a minor feature, but it makes a huge difference. The usual steel or metallic coating causes your hand to sweat. However, a powder coating will not only prevent sweating, but it will also give the mug a lovely matte finish.
FAQs
Stainless steel is the best material, not just spill-proof mugs but travel mugs as well. It is ideal for keeping your coffee hot for the longest time.
2. How to clean the lid of a spill-proof mug?
Soak the lid in warm water and vinegar, then rinse it. Cleaning the sipper of the lid is very important because that is where your mouth will touch the mug.
3. Is it safe to wash spill-proof coffee mugs in dishwashers?
It depends on the material and overall quality of the mug. There are a few mugs that are not safe for dishwashers. So, if you want a dishwasher-safe mug, you must read the description to make sure. 
4. Is thermal insulation necessary for spill-proof coffee mugs?
Yes, it is a must for a spill-proof coffee mug to have good thermal insulation. People commonly use these mugs while commuting to work or traveling. So, the thermal insulation promises to keep the coffee hot when you don't have the chance to reheat it. 
Conclusion
Spill-proof coffee mugs are a good investment if you're a college student, employee,  businessman, or someone who is constantly on the go. It will save you the time and money you would otherwise spend on coffee that comes in a disposable plastic cup. Not to mention, they are so much better for the environment!
With a spill-proof mug, your high-speed cars and bumpy rides will no longer waste your coffee or spoil the outfit. Any drink you pour into it will stay fresh, and its original taste will be unaffected.
All the mugs on my list are beautiful and can be gifted to any coffee lover on any occasion. These spill-proof coffee mugs are super reliable, and they are all rated very high on Amazon. So, what are you waiting for? Go and grab yourself one of these amazing spill-proof mugs!