If you are looking for an inexpensive and easy-to-use coffee maker, this option by AeroPress could be a good option for you. It's a type of coffee press that uses a rapid total immersion brewing process to make smooth and delicious coffee. It's fill flavored but without the bitterness and acidity of some other strong coffee makers.
This makes it a great coffee maker for those who love strong coffee and even for those who don't because the coffee won't be too bitter or acidic.
Bestseller No. 1
Aeropress Clear Coffee Press – 3 in 1 brew...
CRYSTAL CLEAR, SHATTERPROOF TRITAN: Our iconic coffee press, now made with the same patented...
UNIQUELY DELICIOUS: No more average joe from fancy, expensive machines. By combining the best of...
PATENTED 3-IN-1 BREW TECHNOLOGY: The only press that combines agitation and pressure with...
Quantitative Score
Performance – 3/5 ⭐⭐⭐
Durability – 3/5 ⭐⭐⭐
Value for Money – 5/5 ⭐⭐⭐⭐⭐
Overall Score – 4/5 ⭐⭐⭐⭐
Learn more about how we score.
Features
The AeroPress coffee maker has some unique features that make it stand out from other inexpensive coffee machines.
Makes 1-3 cups of coffee per pressing
Can also brew espresso or latte drinks
Lightweight and portable
Great to take camping or to work
Include a full kit to get started with brewing
Easily takes the place of a messy French press
If you love using the French press, this could be a great alternative. The shape and material make it much easier to travel with than other French presses. The purchase comes with everything you need to get started including the press, the funnel, a scoop, a stirrer, 350 microfilters, and a filter holder.
It's portable, but also durable. This makes it great to take on a trip or outside. People even take it backpacking, boating, and camping. You can basically take it anywhere you want to travel.
The AeroPress has a much shorter steeping time than French presses, which is partly why the acidity and bitterness are much less with this method. The microfilters that come with it also eliminate grit and grounds getting into the coffee.
Each time you brew and steep the coffee, you will get about 1-3 cups of coffee depending on how much grounds you used and how strong you want the coffee to be.
The microfilters can be bought in packs of 350 for only $3, so this is a very cost-effective option for people who want good coffee but don't want to spend too much money on pods or other accessories.
It also has some major advantages over normal coffee makers since it's much easier to clean and is portable. Some people even choose to ditch their French press completely after getting this AeroPress.
Some general tips to follow to ensure you are getting the best cup of coffee:
Make sure you don't use boiling water. Let the water heat to a high temperature but don't pour boiling water over the grounds. This can cause the flavor profile to change.
Measure your scoops correctly. Using too much coffee can make it bitter and using too little can make the coffee very weak.
Always use a filter. Not using the correct filter can cause grounds to get into the coffee making it very hard to drink.
Store the plunger inside the tube. This will ensure it doesn't get damaged or rust. A damaged plunger makes it almost impossible to use the AeroPress.
Pros
Easy to use
Portable
Better than most French Presses
Cost-effective
Microfilters are cheap
The kit comes with everything you need to get started
Hard to break and very durable
Cons
Plastic can begin to leach after several uses
Messier than coffee or pod machines
Not the best for people who want to drink several cups of coffee in one morning
Plunge can get stuck or be hard to press down after months of use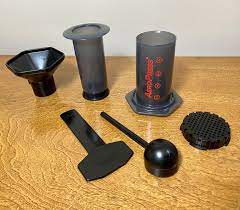 Helpful tips for using the AeroPress
Some people have found that putting the plunger in before starting the brewing process can actually make the process go much simpler and quicker.
Try this method to ensure the plunger doesn't get stuck:
Stick the plunger in the cylinder, but do not attach the filter.
Place the Aeropress on a table so that the plunger is on the table and the other end is open facing your ceiling.
 Add ~2 scoops of coffee grounds (freshly ground if possible!)
Heat water to about 200 degrees Fahrenheit and fill the Aeropress. Stir.
Screw on the filter and allow the Aeropress to sit upright for 2 minutes.
Flip the Aeropress over a cup and depress the plunger.
Add additional hot water to your preference of strength and heat.
Conclusion
Overall, the AeroPress is a great option if you want an inexpensive coffee maker to replace your French press. It's also the best option if you want to have something you can travel with or possibly take with you boating or camping. It's also extremely durable which is part of the reason it's so great for camping and other outdoor adventures. Just make sure to use the filters and keep them clean.