Airbnb's are designed to fulfill the basic requirements of its tenants as well as provide them with a unique experience that fosters recommendations and returning guests. A coffee maker is an integral part of an Airbnb since the majority of the guests want coffee to feel refueled and energized before they head out for a day of exploration and sightseeing. To help you decide on the best coffee maker for your Airbnb, I have compiled a few recommendations below.
The Top Airbnb Coffee Makers in the Market
Having a coffee maker in your Airbnb is a no-brainer since your guest will want a cup of joe first thing in the morning. However, choosing which one can be a challenge. Keep reading to find out my reviews on the best coffee makers, so you can get one according to your listing's size and your budget.
Best Overall Coffee Maker for Airbnb: Nespresso Vertuo
The Nespresso Vertuo is designed to provide a more enhanced and upscale coffee experience. It creates barista-level cups of coffee and espresso with an exceptional flavor, which is definitely a plus for your Airbnb guests.
The Nespresso coffee maker is simple to operate and can brew four different cup sizes, ranging from 1.35 ounces of espresso to 7.7 ounces of coffee, to provide your guests with a range of options. It also comes with a 40 ounces removable tank that is straightforward to refill and perfect for a small to medium-sized Airbnb catering to elite guests.
Admittedly, the tank size is the smallest on our list with both Keurig K-Elite and K-Classix having bigger tank capacities. However, the coffee is richer in taste than other coffee pods with an impressive amount of Crema froth in every cup that would be exciting for your Airbnb guest.
One of the drawbacks of this machine is that while you can choose between hot or cold coffee, it does not have varying temperature settings like the K-Elite coffee machine.  Moreover, the coffee maker is only compatible with Nespresso Vertuo capsules, so that can increase your overall cost but I believe that it is worth the price.
Pros:
A medium-sized machine that is suitable for various Airbnbs' counter spaces.
Centrifusion technology that uses barcodes on the capsule to deliver remarkably flavorful coffee
Fast heat-up time of 15 seconds
Automatically ejects capsules after brewing for added convenience
Cons:
Only compatible with Nespresso capsule
The coffee temperature is limited to either hot or cold, without any variations
Best Coffee Maker for Large Airbnbs: Keurig K-Elite
Next on my list is the Keurig K-Elite, a versatile coffee machine suitable for medium to large Airbnb's. The machine is armed with a touch screen and comes with a host of features. 
It overcomes the lack of customization of the Nespresso Vertuo and allows you to control the temperature and strength of your perfect cup of coffee. You can make iced coffee with this coffee maker as well. It also has a hot water dispenser for making teas using teabags, so it can cater to guests who are not coffee drinkers.
K-Elite has a 75 ounces removable reservoir, which is the highest capacity I have on my list. It is enough to make up more than 8 cups of coffee with a serving size between four to twelve ounces. Thus, if your Airbnb can accommodate a large group of people, this is a good option for your listing.    
The downside of the machine is that since it has a number of options it can be a little complicated to use. Moreover, the guests can only use K-Cups pods with this coffee maker, so make sure to provide them as part of the amenities.
Pros:
Five temperature settings allow you to adjust the temperature according to your need
Quiet Brew Technology to minimize noise while brewing
Convenient alerts to remind you when it is time to descale
Large removable water reservoir for brewing multiple cups of coffee without refilling
Cons:
Large size of the machine requires more space
More complicated to operate than other coffee makers on this list
Best Simple Coffee Maker for Airbnb: Keurig K-Classic
If you want a decent coffee maker without the bells and whistles, try the Keurig K-Classic.
It is very simple to operate, as your guests will only need to press the button that corresponds with a cup size (6, 8, or 10 ounces) to start the brewing process. The strength of coffee depends on the size of the cup, i.e. a smaller cup means stronger coffee and vice versa. The K-Classic also allows for use of a reusable coffee filter. Thus, you can provide a coffee grinder for people who prefer to use freshly ground coffee to pods.
Moreover, it takes only a couple of minutes for the brew to be ready, so your guests will not have to wait long to enjoy their morning coffee. Similar to K-Elite, it has a Descale indicator light, which tells you when it is time to deep clean the unit. This feature helps you ensure that your guests always get a fresh cup of coffee. It also has a decent 48 ounces reservoir capacity that can be filled at the sink.
Unlike the K-Elite, K-Classic does not have the iced coffee option and while it makes a good cup of coffee, it is not the best tasting one compared to coffee brewed by others on my list.  
Pros:
Auto-off feature that automatically turns off the machine to save energy
Descale indicator that prompts you to clean the machine
Cons:
Lack of features and limited serving sizes
Cannot fit large mugs, such as the traveling mugs, for more than 10-ounce of serving   
Features to Consider When Choosing a Coffee Maker for Airbnb
Choosing the perfect coffee maker for your Airbnb is not a one-size-fits-all solution. Every property has a unique selling point and you need to determine which features of a coffee maker work best for your listing. Following are some of the things to consider before investing in a quality coffee maker for your Airbnb:
| Product | Reservoir Capacity | Variety of Cup Sizes | Number of Brewed Cups |
| --- | --- | --- | --- |
| Nespresso Vertuo | 40 ounces | 4 | 5 |
| Keurig K-Elite | 75 ounces | 5 | 8 |
| Keurig K-Classic | 48 ounces | 3 | 6 |
Simplicity
Your Airbnb will get an assortment of guests. While some would appreciate the extensive range of features, most would prefer the simplicity of using coffee pods early in the morning. Most guests want to be out and about exploring the city or are busy business travelers who are in a hurry to leave for their next meeting.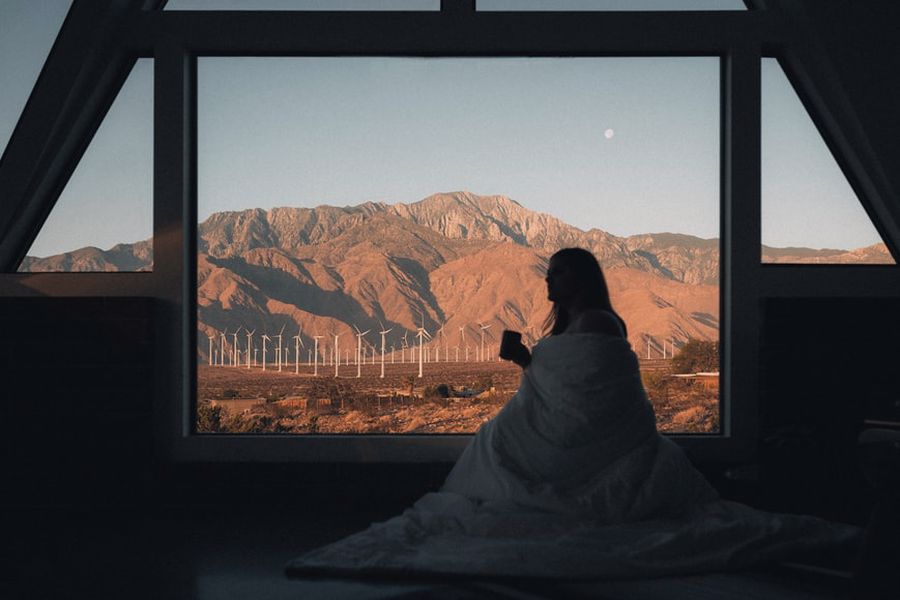 They often do not have time or patience to understand a complicated machine. Therefore, opt for simple machines that brew a great cup of joe with a single button press. Both Nespresso Vertuo and Keurig K-Classic have a simple, single-button operation that is straightforward to manage.
Size
Your coffee maker should be according to the size of your property. For example, if you have a cozy one-bedroom setup, catered towards couples or business travelers, I recommend the Nespresso Vertuo. It brews a single cup of coffee at a time that tastes amazing. Thus, the waiting time to brew a second cup will not pose a problem for a couple of people. On the other hand, if you host large groups of people, go for the traditional coffee pot.  
Robustness
Airbnbs have multiple guests over a period of time. Consequently, a lot of hands will handle your coffee maker and some of them may not be very gentle. Therefore, opt for a machine that is sturdy and less prone to breakage with a little force.
One of the main reasons I do not recommend coffee makers with glass carafes is that they are easy to break or crack. A new replacement will not only add on the cost but will also take some time to deliver so you might have a waiting time where your machine is not usable.  
None of the coffee makers on my list has a glass carafe for precisely the lack of practicality they pose for a busy Airbnb. However, for Airbnbs that accommodate large parties, you may have to invest in a coffee machine with a glass carafe. In that case, opt for one that is sturdy and of the highest quality.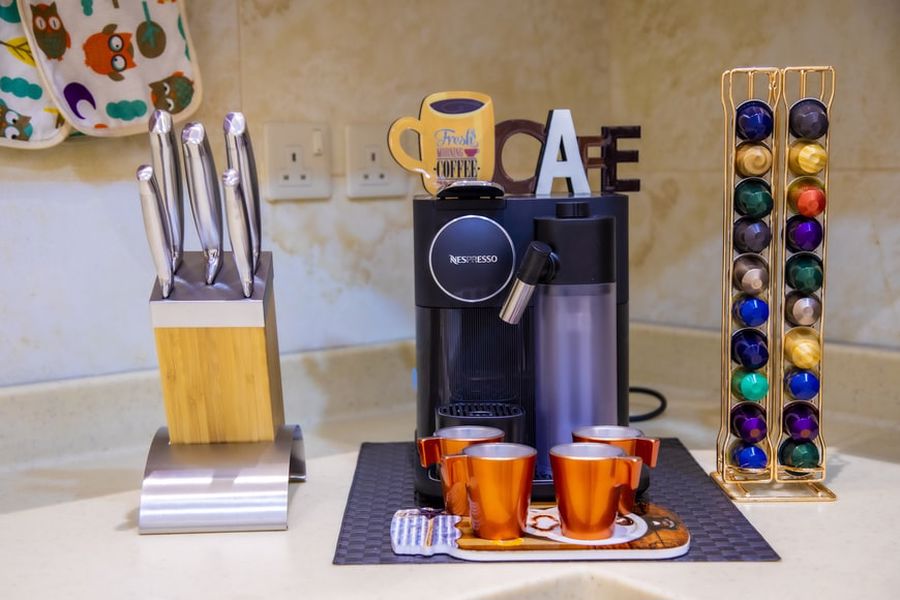 Pods vs Coffee Grounds
Coffee pods such as the K-cups and Nespresso Vertuo capsules are ideal for rental spaces. They do not create a lot of mess, as the pods are easy to discard in a dustbin as compared to coffee grounds that might end up in the sink. Therefore, you will not have to spend a lot of time cleaning up the coffee station between bookings. Pods are also more sanitary than a common coffee pot or jar, where multiple people will share the same spoon to scoop out the coffee.
However, some guests do not mind scooping coffee grounds from a jar. In fact, they prefer the taste of coffee grounds instead of the pods. Coffee grounds are also slightly cheaper than pods. Thus, if you do not mind the extra cleaning after the guests leave, a machine like Keurig K-Classic might be a good option for your Airbnb. It offers the option of both coffee pods and filtered coffee.
Frequently Asked Questions
What Is the Best Coffee for Airbnb?
If you want to provide your guests with a jar of coffee grounds, in addition to the pods/capsules with your coffee maker, the following coffees have a sublime taste that is mild and smooth. These would surely help you earn some positive reviews and feedback on your Airbnb:
 Kicking Horse Coffee, Smart Ass, Medium Roast
Caribou Blend Medium Roast Ground Coffee
Starbucks Medium Roast Ground Coffee
Conclusion
I have researched extensively to recommend the best coffee makers for your Airbnb. However, the final choice will depend on your rental's size and budget, as well as the guests you plan to attract. Make sure that your coffee maker is not overly complicated, robust enough to withstand rough usage, and easy to maintain.